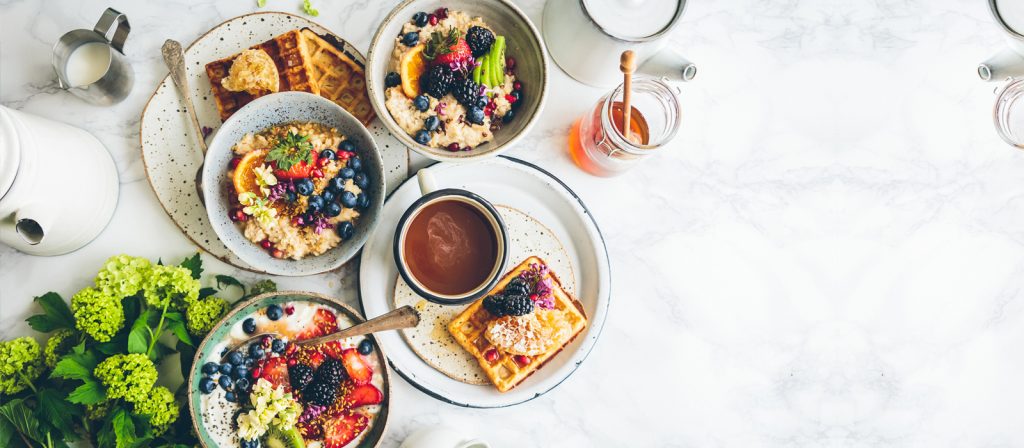 Jun 16, 2020 By Kirsten Romero
Cooking from My Pantry: Overnight Oats
Cooking from My Pantry is a new series featuring Kirsten Romero, MS, RDN, a registered dietitian with the wellness program at Senior Services of Southeastern Virginia. While we're all spending a lot more time at home, Kirsten is here to show you how you can make healthy recipes using real ingredients from your own pantry.
We encourage you to join along in creating today's recipe: Overnight Oats
Overnight Oats
Overnight Oats Video
Basic Recipe
Overnight Oats
These can be served chilled, straight from the refrigerator, or you can heat them up. Heat for about 30-60 seconds in the microwave or over medium heat on the stove.
Overnight oats keep in the refrigerator for 3-5 days.
Base: It all starts here!
½ cup oats (old-fashioned work best)
½-2/3 cup milk of choice: cow's milk, almond, rice, flax, soy, cashew, etc
1 Tbsp seeds (optional):  chia, ground flax, hemp seeds
Add-In Ideas: (use in any combination)
1-2 Tbsp chopped nuts
1 Tbsp nut or seed butters
1/4 to 1/2 c fresh, frozen or dried fruit
1-2 tsp sweetener like honey, maple syrup, artificial sweetener
chocolate chips, shredded coconut, spices like cinnamon, nutmeg
Directions:
Place all ingredients into a glass jar (16 oz or larger works best)
Cover with lid or plastic wrap and place in refrigerator overnight, or at least 6 hours.
Notes
Toppings can be added the night before or immediately before serving.
Heat, if desired. Thin with more liquid as needed.
Uncover and enjoy straight from the jar.
Alternative Recipes
These are just a few ideas. Be creative with flavors/add-ins. There is no right or wrong here!
Berry Nut
¼ c blueberries, raspberries, or blackberries (or a mix of all 3)
2 Tbsp chopped walnut
1 tsp honey, as needed to taste
dash cinnamon
Almond Joy
2 Tbsp shredded coconut
1-2 Tbsp sliced, chopped or slivered almonds
1 Tbsp chocolate chips
1-2 tsp maple syrup, as needed to taste
PB & Banana
1 Tbsp peanut butter
½ sliced banana
Apple Pie
¼ c diced apples (or substitute unsweetened applesauce)
1 Tbsp chopped pecans
1-2 tsp maple syrup, as needed to taste
¼ tsp cinnamon
Enjoy!