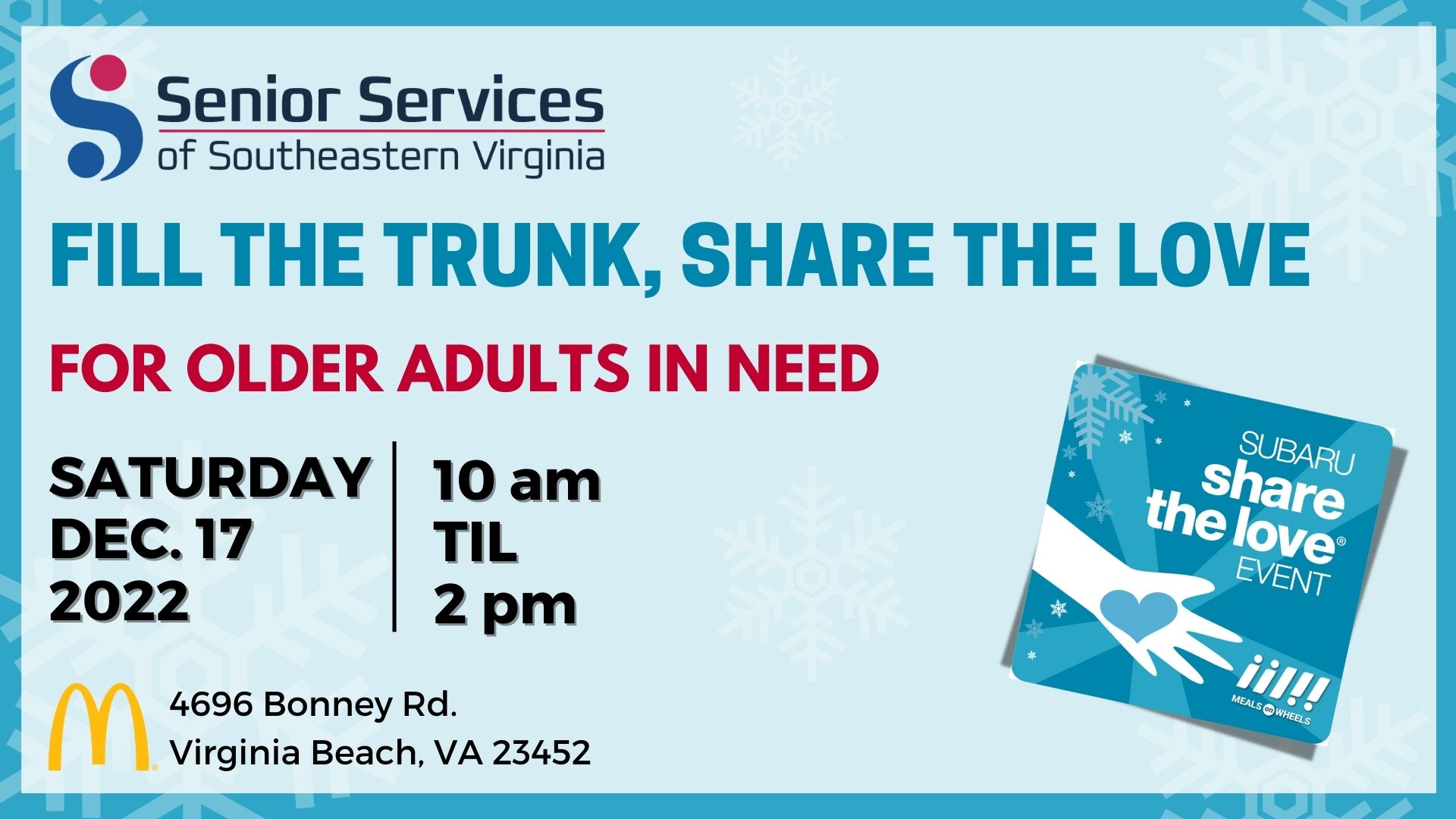 Dec 5, 2022
Senior Services to Celebrate the Subaru Share the Love® with Fill the Trunk
Norfolk, Va. (Dec. 5, 2022) – Senior Services of Southeastern Virginia (Senior Services) is proud to announce that it will be participating in the 15th annual Subaru Share the Love Event, as a member of Meals on Wheels America – one of four national Share the Love charitable partners supported through the campaign. From November 17, 2022, through January 3, 2023, Subaru of America will donate $250 for every new Subaru vehicle purchased or leased to the customer's choice of participating charities.
Participating Meals on Wheels America members, like Senior Services, will receive a share of the donation raised by Subaru in their state. Senior Services will be participating in activities throughout the campaign period to raise awareness for the popular year-end sales and giving event, and drive support for Meals on Wheels.
"As a proud Meals on Wheels America member agency, Senior Services is excited to participate in the 2022 Share the Love® campaign," said SSEVA CEO Steve Zollos. "The Share the Love® campaign raises awareness about the serious issue of older adult hunger in our local communities and helps to open doors for community partnerships to support our programs that help older adults stay healthy, active, and socially engaged."
Your donations of essential unused goods will directly assist older adults right here in our community. Critical unused items include cold weather gear, toiletries, blankets, hair care products, emergency thermal blankets, laundry supplies, and towels. Our partnering organization, Newlands Management Corporation, will host the donation event at:
When: December 17, 2022
Where: Town Center McDonald's®
4696 Bonney Rd. Virginia Beach, VA
Time: 10:00 am – 2:00 pm.
Monetary donations can also be made online at www.ssseva.org/stl
For more information about the Share the Love® event, visit www.mealsonwheelsamerica.org/sharethelove.
_____________________________________________________________
About Senior Services of Southeastern Virginia
For fifty years, Senior Services of Southeastern Virginia has been supporting and enriching the lives of older adults in South Hampton Roads and Western Tidewater through advocacy, education, information, and comprehensive services. The nonprofit has impacted tens of thousands of lives for the better, by providing easy access to high-quality programs and services designed to help older adults remain healthy, active, and engaged. To learn more about Senior Services, call 757-461-9481 or visit www.ssseva.org
About Meals on Wheels America
Meals on Wheels America is the leadership organization supporting the more than 5,000 community-based programs across the country that are dedicated to addressing senior isolation and hunger. This network serves virtually every community in America and, along with more than two million staff and volunteers, delivers nutritious meals, friendly visits, and safety checks that enable America's seniors to live nourished lives with independence and dignity. By providing funding, leadership, education, research, and advocacy support, Meals on Wheels America empowers its local member programs to strengthen their communities, one senior at a time. For more information, or to find a Meals on Wheels provider near you, visit www.mealsonwheelsamerica.org.
About Subaru of America, Inc.
Subaru of America, Inc. (SOA) is a wholly-owned subsidiary of Subaru Corporation of Japan. Headquartered at a zero-landfill office in Camden, N.J., the company markets and distributes Subaru vehicles, parts, and accessories through a network of more than 630 retailers across the United States. All Subaru products are manufactured in zero-landfill production plants and Subaru of Indiana Automotive, Inc. is the only U.S. automobile production plant to be designated a backyard wildlife habitat by the National Wildlife Federation. SOA is guided by the Subaru Love Promise, which is the company's vision to show love and respect to everyone and to support its communities and customers nationwide. Over the past 20 years, SOA has donated more than $165 million to causes the Subaru family cares about, and its employees have logged more than 40,000 volunteer hours. As a company, Subaru believes it is important to do its part in making a positive impact in the world because it is the right thing to do.
For additional information visit media.subaru.com. Follow us on Facebook, Twitter, and Instagram.