Thank you for your cooperation during this critical time. It is important that we stay united as a community to take the necessary precautions to control the spread of COVID-19. We will continue to work hard to ensure the safety and wellbeing of our senior community.
<< Click here for COVID Vaccine Information and Resources >>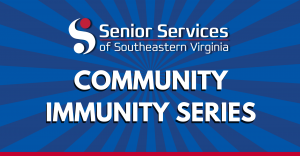 << Click here for our Community Immunity Series Vaccination Event Information >>
We are currently holding vaccination events across southeastern Virginia for older adults in need of their COVID-19 vaccinations or boosters. Each event focuses on giving older adults access to COVID-19 vaccines, while providing a fun, socializing activity.
Our current Meals on Wheels clients are still receiving home-delivered meals. Our volunteers are providing contactless delivery to ensure the safety of our clients.
Our Senior Center clients are getting emergency meals delivered to their homes; with socialization and wellness checks by phone.
Evidence-Based Program: We have classes being implemented remotely. Each program has a workbook/tool-kit that is mailed directly to the registered participant and the programs are lead by our certified leaders.
In keeping with the local, state, and national recommendations, our I-Ride transportation program remains suspended until further notice. This includes fixed routes, medical rides, and on-demand response transit rides. We are continuing to transport our current dialysis clients to their life-saving dialysis treatments.
Social programming, including Senior Companions, has transitioned to telephone outreach, and the importance of our Comfort Calls program has been elevated.
Our health-related services—Medicare Benefits Counseling, Options Counseling, and Care Transitions—are taking place by phone.
All Senior Services offices are closed to the public for in-person service. Our Resource Specialists can assess your needs over the phone: Call 757-461-9481, or 757-517-2904 for assistance in Franklin.